Last Updated on July 27, 2022 by Ernest
Lenovo has quickly established itself as a major contender in the world of tablets. But, not everyone likes using Android. Let's face it, compared to a full-fledged Windows laptop, it does come with a lot of limitations. But, the caveats of having it is poor battery life and the need for better specs, which drives up the price.
Then comes ChromeOS, a lightweight operating system that can run Android and ChromeOS applications as well. So, Lenovo's Chromebook Duet 3 aims to take things to the next level with a detachable keyboard/touchpad, a 2K display, and the inclusion of Snapdragon's 7c Gen2.
So, as soon as we got the tablet down to the office, we took it out for a spin. And here's our honest review of the product.
Specifications 
| | |
| --- | --- |
| OS | ChromeOS |
| CPU | Qualcomm Snapdragon 7c Gen 2 |
| Storage | 64 GB / 128 GB (eMMC) |
| Display | 10.9" 2K (2000×1200) IPS (400 nits) |
| Camera | 8 MP rear facing / 5 MP front facing |
| Wireless | WiFi 5 |
| Battery Life | 10-11 hours |
| Size | 0.31" x 10.16" x 6.48"  |
| Weight | 1.15 lbs |
| Price | $206 |
What's In The Box?
1x Lenovo Chromebook Duet 3
1x Detachable Keyboard + Touchpad
1x 30W Charging Cable (USB-Type C) 
Pros & Cons Of Lenovo Chromebook Duet 3
Just like any other mid-range laptop / tablet, the Lenovo Chromebook Duet 3 has a few pros and cons that are worth highlighting. 
Pros
Cross-compatibility: At this price point, the fact that you can run Android and Chrome applications seamlessly with little to no lag is quite powerful.
Detachable keyboard and touchpad: The tablet comes bundled with a keyboard and touchpad that lets you use the tablet as a laptop on a whim.
Great Display: A 2K, 11-inch display lets you use the table as a media-consumption device due to its stellar quality. 
Cons
No Audio port: There's no headphone jack on the Lenovo Chrome Duet 3. For a tablet, not having a wired audio port can be quite an annoying path to manage.
No WiFi 6: You are limited to WiFi 5 on the Lenovo Chromebook Duet 3. So, you won't really be getting stellar download speeds. 
Features Of Lenovo Chromebook Duet 3
The Lenovo Chromebook Duet 3 aims to be a mid-range tablet that can be used by students and casual users alike. Therefore, it doesn't aim to be the best at anything but is rather presumed to be good enough at almost everything. 
By taking a quick gander at the features, you'd also come to the same conclusion. All in all, a quick dive into the feature set reveals a more than capable laptop, especially in the budget range. 
Display
A Chromebook at this budget is generally not known to have an amazing display. And, by the same logic – you'd expect a poor display to be present in Duet 3 as well. But that's not the case here. We're greeted with an IPS panel, a resolution of 2000×1200, and a 2K resolution.
You might be thinking to yourself, that's a weird resolution, and yes, that leads to an odd 15:9 aspect ratio, but I've grown to like it over my time using the Chromebook. Overall, the display was crisp and clear, and even when I went pixel-peeping, I couldn't find much to complain about at all.
So, overall, an awesome display for the price, which leads the Chromebook to turn into an excellent media-consumption device as well. The fact that the Duet 3 has a better display than most other competitors in this range makes sense – after all, it is meant to act as a tablet too.                         
Keyboard / Touchpad
The Lenovo Chromebook Duet 3 comes with a detachable keyboard and a touchpad built-in. This allows the Duet 3 to truly feel like a laptop. I found the entire attaching mechanism quite easy. There are pins present on both ends that magnetically snap onto each other once you align them properly.
As soon as you do, the device automatically recognizes the keyboard and the touchpad, and you are welcomed with a more desktop-esque experience. I'm going to be honest here, the layout of the keyboard isn't very optimal. It feels very cramped for my taste, and I don't have very large hands.
The touchpad is a bit better but compared to any proper laptop in this budget range, that doesn't have a detachable keyboard. You'll find this touchpad very clicky and janky. Yes, it's useable for a few emails here and there and some quick correspondences. But, for anything more serious and I'd wholeheartedly recommend purchasing a separate Bluetooth keyboard and mouse.
Performance
The Lenovo Duet 3 comes packed with Qualcomm's Snapdragon 7C Gen 2. When it comes to performance for this particular device, you need to first put your expectations in check. Is this laptop going to be editing multiple streams at 4K? Probably not.
But that's not what it's meant to do either. So, we take the laptop at face value and instead opted for opening a few tabs, editing some documents, and playing some extremely casual games. Surprisingly, the 4 GBs of onboard RAM didn't feel like a bottleneck at all.
In fact, to test the laptop's paces, I opened about 13 tabs and kept switching between Spotify, a YouTube video, and a Google Docs document (the very one that I'm writing this review on) and didn't face any semblance of lag whatsoever.
I don't like benchmarking mid-range laptops. After all, what's the use of all those numbers and scores when the prime audience of this laptop is going to be using it for casual work anyways. So, from my rigorous testing – I found the Duet 3 perfect for what it's meant to do. Light, casual work.
Camera
The Duet 3 comes equipped with a 5 MP front-facing camera and an 8 MP rear-facing camera. Honestly, I wasn't impressed with either. The front-facing camera pushes out really washed-out images that I wouldn't use anywhere except for a very quick meeting on Zoom or Google Meets.
The rear-facing camera is a bit better. But nothing to drive home about. In all honestly, I feel like this is where Lenovo skimped out on hardware. And rightfully so. The laptop doesn't really need to take pixel-perfect features. But, if you are an aspiring photographer and, for some reason, are looking for a tablet to suit your needs, the Duet 3 isn't all that great.
On the other hand, if you just want to opt-in for a meeting or just need to get some calls then, then the Duet 3 will suit your needs more than enough.
Battery Life
If you were wondering why Lenovo opted for a Snapdragon chip, battery life seems to be the primary reason. While the Duet 3 is claimed to have about 12 hours of battery life, we peaked at about 10-11 hours.
On a general day of light browsing, video watching, document editing, and light gaming, I had the laptop last me a little north over 10 hours which is more than respectable. In essence, you won't have to worry about bringing your charger everywhere and can easily get through more than a day's work off a full charge.
But, let me be clear here, the Duet 3 definitely doesn't have insane battery life. Far from it, actually. Compared to an iPad's battery life of about 13 hours or the Lenovo Tab M10 Plus (3rd Generation) we recently reviewed coming in at 14 hours – if battery life is your shtick, look elsewhere.
Who Is The Lenovo Chromebook Duet 3 For?
The Lenovo Chromebook Duet 3 is primarily meant for students and individuals who want to get some light work done and need a tablet / laptop or note-taking. I'd honestly recommend this product to anyone who needs a tablet at this price range. The Duet 3 is excellent for what it does.
The fact that you can run Android applications while also enjoying a bit more of a desktop-like experience with the help of ChromeOS turns it into a no-brainer for students whose biggest pet peeve might be the inability to access certain applications or their unusability with Android.
So, if you are a student, or are someone looking for a budget tablet that has a great display and okay battery life, then the Duet 3 is a good pickup. 
Lenovo Chromebook Duet 3 Vs. HP Chromebook x2 11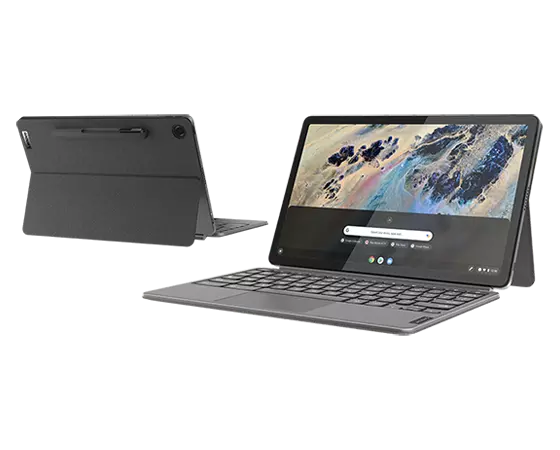 Lenovo Chromebook Duet 3
OS: ChromeOS
CPU: Qualcomm Snapdragon 7c Gen 2
Storage: 64 GB / 128 GB (eMMC)
Display: 10.9" 2K (2000×1200) IPS (400 nits)
Camera: 8 MP rear facing / 5 MP front facing
Wireless: WiFi 5
Battery Life: 10-11 hours
Size: 0.31" x 10.16" x 6.48" 
Weight: 1.15 lbs
Price: $206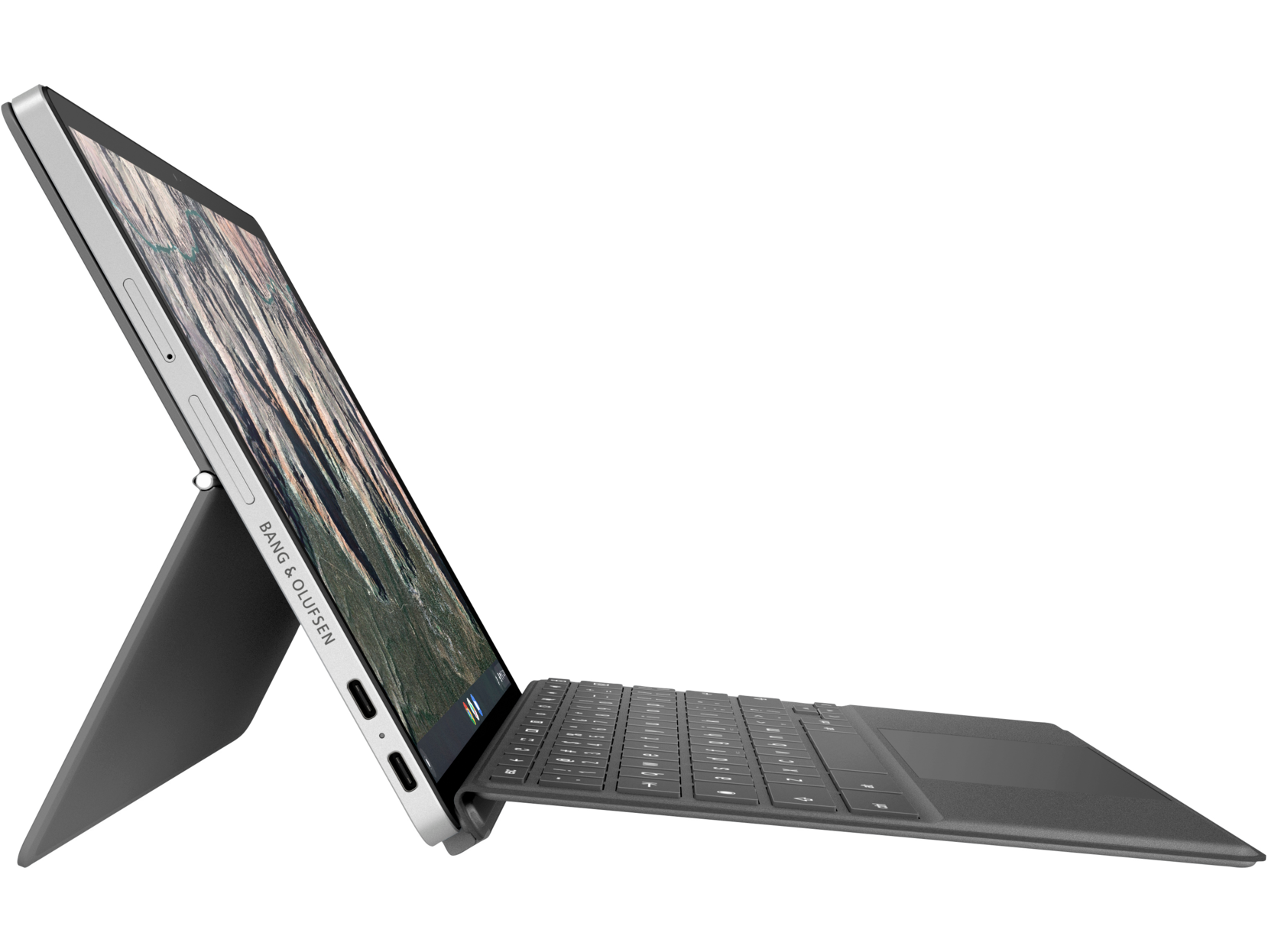 HP Chromebook x2 11
OS: ChromeOS
CPU: Qualcomm Snapdragon 7c
Storage: 64 GB / 128 GB (eMMC)
Display: 11.0" 2.1K (2160×1440) 
Camera: 8 MP rear facing / 5 MP front facing
Wireless: WiFi 5
Battery Life: 11-12 hours
Size: 0.3" x 9.94" x 6.96"
Weight: 1.23 lbs
Price: $449
Key Differences
Performance: The Chromebook Duet 3 comes with a Snapdragon 7c Gen 2 while the HP Chromebook x2 11 is equipped with the first generation of the same processor. So, performance is slightly favored on Lenovo's end.
Stylus: The HP comes with a stylus, while you need to purchase one separately for the Duet 3.
As you can see, there are a few differences between the two Chromebooks. If it were up to me, I'd go for the Lenovo Chromebook Duet 3 simply because it is usually similarly priced but comes with a new processor. While the performance overhead isn't insane, it'll definitely help in future-proofing the laptop. 
Other Aspects Of The Lenovo Chromebook Duet 3
| | | |
| --- | --- | --- |
| Does the Chromebook Duet 3 have facial recognition? | √ | |
| Does the Chromebook Duet 3 have wireless charging? | | √ |
| Does the Lenovo Chromebook Duet 3 Plus have a headphone jack? | | √ |
| Does the Chromebook Duet 3 have a SIM card slot? | | √ |
| Does the Chromebook Duet 3 have GPS? | | √ |
| Does the Chromebook Duet 3 have 5G? | | √ |
| Does the Chromebook Duet 3 Support A Stylus? | √ | |
Final Thoughts
The Duet 3 sparks a new era of Chromebook tablets. With the inclusion of a keyboard and touchpad, I find the Duet 3 to be a great deal. It would've been better if it included a stylus in the box. But, the display, performance, and overall aesthetic of the device make up for an enticing package, especially at that price range. Currently, it's definitely the best Chrome OS Tablet available. We're definitely going to list it also as one of the best tablets you can get for under $300.
It's a good budget tablet that surprised us a bit with how good they have become. If you're not running heavy processing apps, it's hard to tell the difference between a premium-priced tablet and a budget-priced tablet these days.
I love tech and all about it. I'm interested in finding ways how they can make my life more productive, and I share my knowledge with my blog readers. I'm an iPad Pro, iPhone, MacBook, and Apple Watch user, so I know a thing or two about these devices and try to write helpful content around these topics.